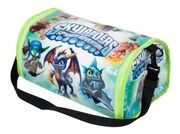 The Adventure Carrying Case is currently the largest available, with the capacity to hold 32 Skylanders figures and the Portal of Power. The top of the case rolls out to form a staging area for the Portal and Skylanders of each element.
Gallery
Ad blocker interference detected!
Wikia is a free-to-use site that makes money from advertising. We have a modified experience for viewers using ad blockers

Wikia is not accessible if you've made further modifications. Remove the custom ad blocker rule(s) and the page will load as expected.