Crusher
Talk

0
480pages on
this wiki
"It's Crush Hour!"
    —Crusher's official catchphrase
Crusher is an Earth Skylander and one of the eight Giants in Skylanders: Giants.
Background
Biography
Crusher knew from the moment he put on his father's mining helmet that his true passion in life was crushing rocks. He was fascinated with rock-lore and traveled all throughout Skylands in search of rare minerals to pulverize with his powerful hand-crafted rock hammer, which is also named Crusher. But along his travels, he discovered that the evil Arkeyan King was also searching for rocks-to melt down into weapons of war. Crusher's fury built up like an avalanche. After all, crushing was his job! So he put aside his life's passion and decided to use his hammer for a greater purpose- crushing Arkeyan Robots.
Gameplay
Crusher attacks with his large, menacing hammer (also named Crusher) and his secondary attack is that he shoots a laser of ice from his goggles. He can also use self-destruct to scatter his rocky parts, but has the ability to be reform.
Stats
These are the starting and maximum Statistics for this Skylander in the Skylanders games.

Health: 470 (max. 940)
Speed: 20 (max. 68)
Armor: 24 (max. 54)
Critical Hit: 40 (max. 90)
Elemental Power: ?? (max. 50)
Warning: These stats are not used in any of the Skylander games. They are only listed for completeness reasons.

Strength: 140
Agility: 50
Defense: 140
Luck: 60
Abilities
Basic Abilities
These abilities are available from the start of the game.
Soul Gem Ability
Requires Soul Gem from:
Troll Home Security

Wow Pow Power

Crusher's Crusher
Turn To Stone
Rockslidin' Out
None

Primary Ability
Press Attack 1 to swing the big hammer, also named "Crusher".

Secondary Ability
Press Attack 2 button to shoot eye beams that turn enemies to stone.

Price: 4000
Hold Attack 3 to steer Rockslide boulders around.

Price: 5000
This Skylander has no Wow Pow Power.
Basic Upgrades
Skylanders can buy new abilities from Persephone.
Ground Grinder
Rockslide
Super Crusher
Cavelight Blast

Price: 500
Hold Attack 1 to hit the ground so hard that it makes a crack in the ground that damages enemies.

Price: 700
Press Attack 3 to break apart into boulders running over anything in their path.

Price: 900
Hammer does increased damage.

Price: 1200
While holding Attack 2, press Attack 1 to launch a pulse of energy that damages enemies.
Rock Grinder
Further develop Crusher's Hammer attacks.
Crusher Combos
Hammer Daddy
Triple Ground Grinder

Price: 1700
Press Attack 1, Attack 1, Hold Attack 2 for Hammer Throw. Press Attack 1, Attack 1, Hold Attack 3 for 360 spin.

Price: 2200
Hammer takes the face of Crusher's father and does increased damage.

Price: 3000
Hold Attack 1 to hit the ground and make thre cracks appear to damage enemeies.
Rubble Master
Further develop Crusher's Rockslide attacks.
Controlled Rockslide
Boulder Bombs
Bedrock Armor

Price: 1700
Control the direction of your Rockslide attack.

Price: 2200
While in a Rockslide, press Attack 1 to detonate boulders.

Price: 3000
Special rock from deep within the earth provides increased armor.
Skylanders can use abilities depending on their level.


Starting Powers
Unknown (Primary Attack): Unknown
Unknown (Secondary Attack): Unknown
Upgrades
Unknown (requires level: Unknown): Unknown
Unknown (requires level: Unknown): Unknown
Unknown (requires level: Uknown): Unknown
Minigame Abilities
Skylanders get special abilities in minigames based on their element.
Sky Defense
Castle Assault
Ground Defense

Shake enemies in range and prevent them to shoot for a while.

Launch a projectile that stops in mid-air and drops straight down with great force.

This ability unlocks once the player beats Castle Assault level 16.

Create an earthquake and inflict damage to enemies in range.
Character Trailers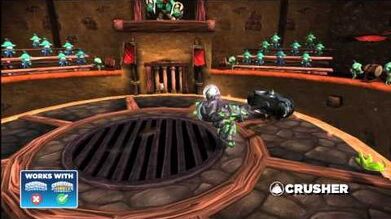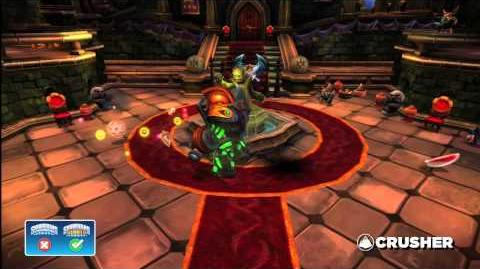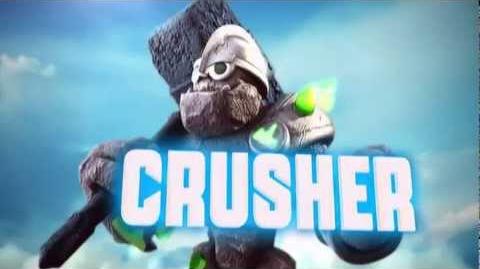 Gallery
Trivia
Crusher slightly resembles the Giant from the movie, The Iron Giant.
The Poptropica character, Crusher from Super Power Island and the Geronimo Stilton character, Crusher from "Surf's Up!", share the same name.
He has crystals all over his body, so he might be a crystal golem like Prism Break.
Crusher is the only Giant who can lift a boulder with one hand, mostly because he has the hammer in the other hand.
His catchphrase is probably a play on 'It's Rush Hour!'
On an Happy Meal interview, Crusher reveals that he wears glasses, listens to rock music, and tried calling his hammer "Frank".[1]
He is the Skylander with most health.
He is the second Skylander to be exclusive to Target, the first being Series 1 Whirlwind, though she is no longer a Target exclusive.
References
Characters

Air Skylanders

Spyro's Adventure


Lightning Rod

Sonic Boom

Warnado

Whirlwind
Skylanders: Giants
Jet-Vac - Swarm


Earth Skylanders

Spyro's Adventure


Bash

Dino-Rang

Prism Break

Terrafin
Skylanders: Giants
Flashwing - Crusher
Fire Skylanders
Spyro's Adventure


Eruptor

Flameslinger

Ignitor

Sunburn
Skylanders: Giants
Hot Dog - Hot Head
Skylanders: Swap Force
Blast Zone

Life Skylanders

Spyro's Adventure


Camo

Stealth Elf

Stump Smash

Zook
Skylanders: Giants
Tree Rex - Shroomboom
Skylanders: Swap Force
Stink Bomb

Magic Skylanders

Spyro's Adventure


Double Trouble
Spyro

Voodood

Wrecking Ball
Skylanders: Giants
Pop Fizz - Ninjini

Tech Skylanders

Spyro's Adventure


Boomer

Drill Sergeant
Drobot

Trigger Happy
Skylanders: Giants
Sprocket - Bouncer
Skylanders: Swap Force
Countdown - Magna Charge

Undead Skylanders

Spyro's Adventure


Chop Chop

Cynder

Ghost Roaster

Hex
Skylanders: Giants
Fright Rider - Eye-Brawl
Skylanders: Swap Force
Roller Brawl - Night Shift

Water Skylanders

Spyro's Adventure


Gill Grunt

Slam Bam

Wham-Shell

Zap
Skylanders: Giants
Chill - Thumpback
Skylanders: Swap Force
Wash Buckler - Freeze Blade