Dark Blast Zone is the Dark alter ego of Blast Zone in Skylanders: Swap Force.
Background
Biography
While on a special mission, a team of Skylanders discovered a secret lair where Kaos was experimenting with a new discovery -- Petrified Darkness -- which he initially intended to use to stage a coup against Skylands. In their fight to stop Kaos, the lair exploded, releasing a cloud of pure Darkness. The Skylanders knew they couldn't let it escape, so they absorbed this energy, transforming them into dark versions of themselves. Fortunately, Spyro learned to tame that darkness within him long ago. So with his help, these Skylanders now have also learned to control it -- combining its power with their own to fight Kaos and the forces of evil.
Gameplay
Stats
These are the starting and maximum Statistics for this Skylander in the Skylanders games.

Health: ??? (max. 0)
Speed: ?? (max. 48)
Armor: ?? (max. 30)
Critical Hit: ?? (max. 50)
Elemental Power: ?? (max. 50)
Warning: These stats are not used in any of the Skylander games. They are only listed for completeness reasons.

Strength: 190
Defense: 90
Agility: 130
Luck: 50
Character Trailer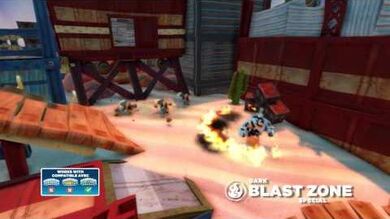 See also
Gallery
Trivia
Ad blocker interference detected!
Wikia is a free-to-use site that makes money from advertising. We have a modified experience for viewers using ad blockers

Wikia is not accessible if you've made further modifications. Remove the custom ad blocker rule(s) and the page will load as expected.