Dark Hammer Slam Bowser is the Dark counterpart of Hammer Slam Bowser in Skylanders: SuperChargers. His signature vehicle is the Dark Clown Cruiser.
Gameplay
Stats
These are the starting and maximum Statistics for this Skylander in the Skylanders games.

Health: ??? (max. 0)
Speed: ?? (max. 48)
Armor: ?? (max. 30)
Critical Hit: ?? (max. 50)
Elemental Power: ?? (max. 50)
Warning: These stats are not used in any of the Skylander games. They are only listed for completeness reasons.

Strength: 300
Defense: 280
Agility: 90
Luck: 130
Character Trailer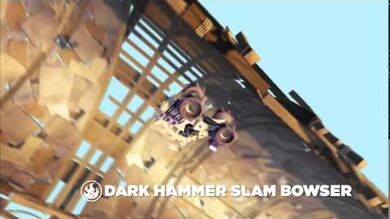 See also
Gallery
Ad blocker interference detected!
Wikia is a free-to-use site that makes money from advertising. We have a modified experience for viewers using ad blockers

Wikia is not accessible if you've made further modifications. Remove the custom ad blocker rule(s) and the page will load as expected.