Dark Stealth Elf
Talk

9
1,071pages on
this wiki
Dark Stealth Elf

Species:
Elf
Gender:
Female
Element:
Life
Role:
Skylander
World:
Skylands
Appears in:
Skylanders: Swap Force
Skylanders: Trap Team
Attacks/Actions:
Blade Slash
Stealth
Dragonfang Daggers
Arboreal Acrobatics
Elf Jitsu
English Voice Actor:
Audrey Wasilewski
First Release:
Skylanders: Swap Force
Dark Stealth Elf is the Dark counterpart of Series 3 Stealth Elf in Skylanders: Swap Force.
Background
Biography
While on a special mission, a team of Skylanders discovered a secret lair where Kaos was experimenting with a new discovery -- Petrified Darkness -- which he initially intended to use to stage a coup against Skylands. In their fight to stop Kaos, the lair exploded, releasing a cloud of pure Darkness. The Skylanders knew they couldn't let it escape, so they absorbed this energy, transforming them into dark versions of themselves. Fortunately, Spyro learned to tame that darkness within him long ago. So with his help, these Skylanders now have also learned to control it -- combining its power with their own to fight Kaos and the forces of evil.
Gameplay
Stats
These are the starting and maximum Statistics for this Skylander in the Skylanders games.

Health: ??? (max. 0)
Speed: ?? (max. 48)
Armor: ?? (max. 30)
Critical Hit: ?? (max. 50)
Elemental Power: ?? (max. 50)
Warning: These stats are not used in any of the Skylander games. They are only listed for completeness reasons.

Strength: 75
Defense: 40
Agility: 130
Luck: 80
Character Trailer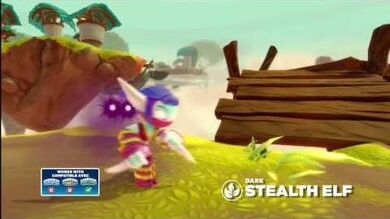 See also
Gallery
Trivia
She is the second dark variant Skylander to be announced (the first being Dark Spyro).
Her Stealthier Decoy makes her eyes glow purple instead of green.

However, in her figure form and Trap Team, hr eyes glow green.

Her scarecrows have gray or silver heads.
Unlike her normal S3 counterpart, Dark Stealth Elf wears her full black ninja costume except for the hood part where she needs to purchase her Wow Pow in order to get it. But in Trap Team, the hood part is now included even before the Wow Pow is bought. However, any hat she wears removes the top hooded part.