The Dark Sea Shadow is the Dark counterpart of the Sea Shadow in Skylanders: SuperChargers. It is exclusive to the Dark Edition of SuperChargers for PlayStation and Xbox consoles.
See also
Gallery
Character Trailer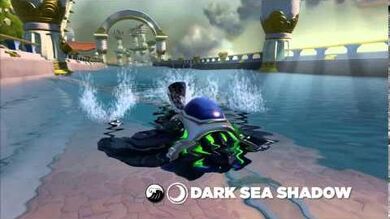 Trivia
Despite being partnered with Dark Super Shot Stealth Elf in its promotional artwork, Nightfall is actually Dark Sea Shadow's signature driver, and is required to SuperCharge.
This is the first Dark elemental figure to also be a Dark Edition Alt Deco.
Ad blocker interference detected!
Wikia is a free-to-use site that makes money from advertising. We have a modified experience for viewers using ad blockers

Wikia is not accessible if you've made further modifications. Remove the custom ad blocker rule(s) and the page will load as expected.