Dune Bug
Talk

2
715pages on
this wiki
Dune Bug

Species:
Beetle
Gender:
Male
Element:
Magic
Role:
Ally
World:
Skylands
Appears in:
Skylanders: Swap Force
Attacks/Actions:
Unknown
English Voice Actor:
Unknown
First Release:
Skylanders: Swap Force
"Can't Beat the Beetle!"
    —Dune Bug's official catchphrase
Dune Bug is a new Magic core Skylander who is set to appear alongside Skylanders: Swap Force.
Background
Biography
Hailing from a race of beetles changed by the powerful secrets hidden in a buried Arkeyan city, Dune Bug was next in line to become the defender of those secrets. As a small pupa, Dune Bug and his father would travel to the ruins where he learned to read the ancient writings using his father's magic staff. On the day Dune Bug was to be given his own magic staff, the city fell under attack by the evil Sand Mages of Doom, who were after the secret Arkeyan tomes. Knowing what he had to do, Dune Bug used his magic to defeat the Mages and bury the city deeper into the ground until it was forever out of their reach. Dune Bug earned his magic staff that day - and a place alongside the Skylanders.
Gameplay
Stats
These are the starting and maximum Statistics for this Skylander in the Skylanders games.

Health: ??? (max. 0)
Speed: ?? (max. 48)
Armor: ?? (max. 30)
Critical Hit: ?? (max. 50)
Elemental Power: ?? (max. 50)
Warning: These stats are not used in any of the Skylander games. They are only listed for completeness reasons.

Strength: 150
Defense: 150
Agility: 150
Luck: 150
Abilities
Basic Abilities
These abilities are available from the start of the game.
Soul Gem Ability
Requires Soul Gem from:
Boney Islands

Mystic Missiles
Dune Ball
Buggy Buddy

Primary Ability
Press Attack 1 to shoot magical beams of energy from a staff.

Secondary Ability
Hold Attack 2 to create a large magical ball that can be rolled around and scoop up enemies.

Price: 4000
Press Attack 2 twice to summon Buggy, a little bug who rides a dune ball and rolls up nearby enemies.
Basic Upgrades
Skylanders can buy new abilities from Persephone/Power Pods.
Dune Parade
Debilitating Dunes
Bursting Magic
Buzzing Beetle

Price: 500
Hold Attack 2 to create a Dune Ball. Move the Dune Ball to make it grow, increasing damage, size, and how many enemies can be trapped.

Price: 700
Hold Attack 2 to create a Dune Ball. Move the Dune Ball over enemies to trap them. Press Attack 1 to shoot enemies in the Dune Ball and do increased damage to them.

Price: 900
Hold Attack 1 to fire rapid streams of powerful magic from a new staff.

Price: 1200
Press Attack 3 to hover in the air. Speed is increased while hovering!
Scarab Sage Path
path1desc
Stunning Spread
Scarab Power
Magic Scarab Ride

Price: 1700
Hold Attack 1 for a short time to charge the staff, release to shoot three powerful exploding orbs of magic at enemies.

Price: 2200
Gain a new golden staff that shoots magic projectiles that do increased damage.

Price: 3000
Jump while hovering to create a large shockwave that damages nearby enemies.
Dune Mage Path
path2desc
Dune Bomb
Hardened Shell
Sparking Wings

Price: 1700
Hold Attack 1 for a short time to charge the staff, release to shoot a dune grenade that traps enemies and explodes.

Price: 2200
Armor is increased. A new hardened shell reduces damage taken.

Price: 3000
Press Attack 3 to hover, causing sparks of magic to shoot out from behind.
Skylanders can use abilities depending on their level.


Starting Powers
3DSpower1 (Primary Attack): 3DSpower1desc
3DSpower2 (Secondary Attack): 3DSpower2desc
Upgrades
3DSupgrade1 (requires level: 3DSupgrade1level): 3DSupgrade1desc
3DSupgrade2 (requires level: 3DSupgrade2level): 3DSupgrade2desc
3DSupgrade3 (requires level: 3DSupgrade3level): 3DSupgrade3desc
Character Trailers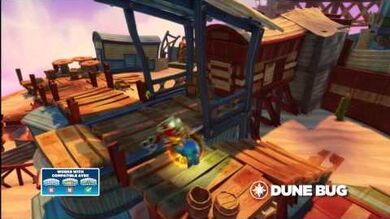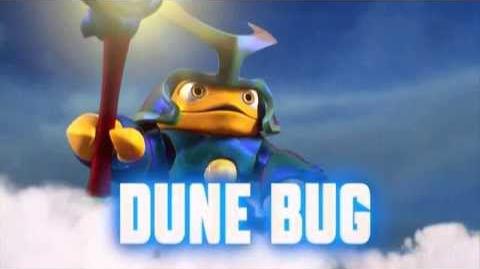 Trivia
Dune Bug's name is a play on "Dune Buggy".

It may also be a pun on "Junebug" which is a type of scarab beetle.

Dune Bug resembles a japanese rhinoceros beetle.
Characters
Air Skylanders
Skylanders: Spyro's Adventure


Lightning Rod

Sonic Boom

Warnado

Whirlwind
Skylanders: Giants
Jet-Vac - Swarm
Alter Egos
Polar Whirlwind - Legendary Jet-Vac - Legendary Free Ranger
Skylanders: Swap Force
Free Ranger - Scratch - Boom Jet - Pop Thorn

Earth Skylanders

Skylanders: Spyro's Adventure


Bash

Dino-Rang

Prism Break

Terrafin
Skylanders: Giants
Flashwing - Crusher
Alter Egos
Legendary Bash - Granite Crusher - Jade Flashwing - Dark Slobber Tooth - Birthday Bash
Skylanders: Swap Force
Slobber Tooth - Scorp - Rubble Rouser - Doom Stone

Fire Skylanders

Skylanders: Spyro's Adventure


Eruptor

Flameslinger

Ignitor
Sunburn
Skylanders: Giants
Hot Dog - Hot Head
Alter Egos
Legendary Ignitor - Molten Hot Dog - Volcanic Eruptor - Cupid Flameslinger - Dark Blast Zone -
Jade Fire Kraken
Skylanders: Swap Force
Fryno - Fire Kraken - Smolderdash - Blast Zone

Life Skylanders

Skylanders: Spyro's Adventure


Camo

Stealth Elf

Stump Smash

Zook
Skylanders: Giants
Tree Rex - Shroomboom
Alter Egos
Legendary Stealth Elf - Gnarly Tree Rex - Legendary Zoo Lou - Dark Stealth Elf
Fireworks Zook - Autumn Stump Smash - Jolly Bumble Blast
Skylanders: Swap Force
Bumble Blast - Zoo Lou - Stink Bomb - Grilla Drilla

Magic Skylanders

Skylanders: Spyro's Adventure


Double Trouble

Spyro

Voodood

Wrecking Ball
Skylanders: Giants
Pop Fizz - Ninjini
Alter Egos
Dark Spyro - Legendary Spyro - Scarlet Ninjini - Royal Double Trouble
- Buddy Wrecking Ball - Hoppity Pop Fizz - Enchanted Hoot Loop - Enchanted Star Strike
Skylanders: Swap Force
Star Strike - Dune Bug - Hoot Loop - Trap Shadow

Tech Skylanders

Skylanders: Spyro's Adventure


Boomer

Drill Sergeant

Drobot

Trigger Happy
Skylanders: Giants
Sprocket - Bouncer
Alter Egos
Legendary Trigger Happy - Legendary Bouncer - Lucky Boomer - Nitro Magna Charge
Springtime Trigger Happy - Kickoff Countdown
Skylanders: Swap Force
Countdown - Wind-Up - Magna Charge - Spy Rise

Undead Skylanders

Skylanders: Spyro's Adventure


Chop Chop

Cynder

Ghost Roaster

Hex
Skylanders: Giants
Fright Rider - Eye-Brawl
Alter Egos
Legendary Chop Chop - Grill Master Chop Chop - Legendary Grim Creeper - Legendary Night Shift
Skeletal Cynder - Quickdraw Rattle Shake
Skylanders: Swap Force
Roller Brawl - Grim Creeper - Rattle Shake - Night Shift

Water Skylanders

Skylanders: Spyro's Adventure

Gill Grunt

Slam Bam

Wham-Shell

Zap
Skylanders: Giants
Chill - Thumpback
Alter Egos
Legendary Slam Bam - Legendary Chill - Surfer Slam Bam - Dark Wash Buckler
- Admiral Thumpback - Nitro Freeze Blade
Skylanders: Swap Force
Rip Tide - Punk Shock - Wash Buckler - Freeze Blade