"All Hands on Deck!"
    —Eggcited Thrillipede's official catchphrase
Eggcited Thrillipede is the Easter counterpart of Thrillipede in Skylanders: SuperChargers.
Background
Biography
Thrillipede is all suited up and ready to defend his title as the reigning Dragon Egg Toss Champion. After last year's controversy, when Kaos wrongly accused him of coating several Dragon Eggs with sticky tape, Thrillipede is eager to show everyone that his egg tossing supremacy was no fluke. And to prove his point, he's agreed to enter the competition with one hand tied behind his back!
See also
Gallery
Character Trailer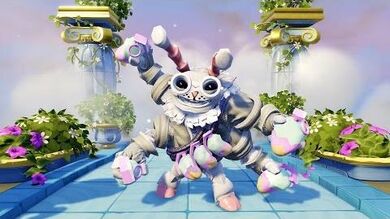 Ad blocker interference detected!
Wikia is a free-to-use site that makes money from advertising. We have a modified experience for viewers using ad blockers

Wikia is not accessible if you've made further modifications. Remove the custom ad blocker rule(s) and the page will load as expected.