Grim Creeper
Talk

16
716pages on
this wiki
Grim Creeper
Species:
Unknown
Gender:
Male
Element:
Undead
Role:
Skylander
World:
Skylands
Appears in:
Skylanders: Swap Force
Attacks/Actions:
Unknown
English Voice Actor:
Lex Lang
First Release:
Skylanders: Swap Force
"Your Time Is Up!"
    —Grim Creeper's official catchphrase
Grim Creeper is one of the Core Undead Skylanders in Skylanders: Swap Force.
Background
Biography
When he was young, Grim Creeper visited the prestigious Grim Acres School for Ghost Wrangling, hoping to attend as a student. But when the Scaremaster interviewed him, he found that Grim didn't have any of the usual training that other students had. Because of this, he was turned away. However, as the young Grim was about to leave, a herd of rampaging ghosts suddenly flooded the school -- carrying away the faculty and leaving the students to fend for themselves. Grim Creeper stood his ground -- not only defending the other students, but using his amazing reaping talents to fight back the ghosts and contain them until help could arrive. Now a Skylander, Grim is considered one of the best reapers ever to swing a scythe, proving that studies alone are no substitute for bravery, passion and true heroic spirit.
Quotes
Battle Cries
"Your Time Is Up!"
"Time To cut and run!" - when transforming
"Ooo, A nice harvest!"
"It's fright time!"
"Taking off!"
"The bell tolls for you!"
"A grave new world!"
"Eternal success!"
"Read em and creep!" - stats
"My stats are creeping up!" - stats
"This hat can ruin my image." - given a hat
"Now that's a skull cap!" - given a hat
"Passing beyond!"
"Moving on!"
"That's the spirit!"
"You tempted fate, and lost!"
Character Trailers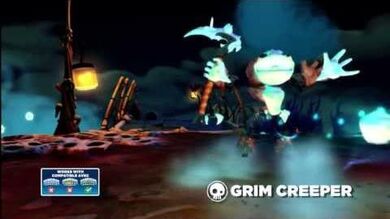 LightCore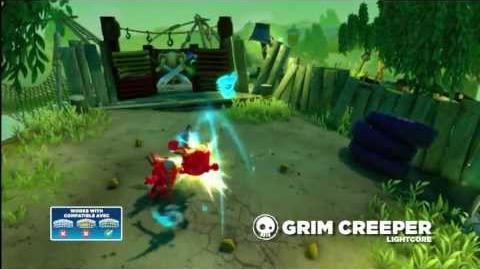 Gallery
Trivia
His name is a play on the name of the undead entity, 'Grim Reaper'.
He is the second Undead Skylander to have a ghostly ally while Cynder is the first. However, he must defeat an enemy in order to summon it. Also, killing a Chompy or a Chompy Pod won't summon ghostly allies.
His abilities are similar to Ignitor as they can leave their suits.
Grim Creeper is voice by Lex Lang, best known as the current voice of Doctor Neo Cortex from Crash Bandicoot.
When wearing a hat, and performing Ghost Form. The hat stays with his Ghost Form and not his Living Armor.
His Ghost Form slightly resembles the ghosts from the Darklight Crypt level of the first game, including Machine Ghost from Skylanders: Giants.
His Soul Gem Help From Beyond adds a mist that follows him.
Characters
Air Skylanders
Skylanders: Spyro's Adventure


Lightning Rod

Sonic Boom

Warnado

Whirlwind
Skylanders: Giants
Jet-Vac - Swarm
Alter Egos
Polar Whirlwind - Legendary Jet-Vac - Legendary Free Ranger
Skylanders: Swap Force
Free Ranger - Scratch - Boom Jet - Pop Thorn

Earth Skylanders

Skylanders: Spyro's Adventure


Bash

Dino-Rang

Prism Break

Terrafin
Skylanders: Giants
Flashwing - Crusher
Alter Egos
Legendary Bash - Granite Crusher - Jade Flashwing - Dark Slobber Tooth - Birthday Bash
Skylanders: Swap Force
Slobber Tooth - Scorp - Rubble Rouser - Doom Stone

Fire Skylanders

Skylanders: Spyro's Adventure


Eruptor

Flameslinger

Ignitor
Sunburn
Skylanders: Giants
Hot Dog - Hot Head
Alter Egos
Legendary Ignitor - Molten Hot Dog - Volcanic Eruptor - Cupid Flameslinger - Dark Blast Zone -
Jade Fire Kraken
Skylanders: Swap Force
Fryno - Fire Kraken - Smolderdash - Blast Zone

Life Skylanders

Skylanders: Spyro's Adventure


Camo

Stealth Elf

Stump Smash

Zook
Skylanders: Giants
Tree Rex - Shroomboom
Alter Egos
Legendary Stealth Elf - Gnarly Tree Rex - Legendary Zoo Lou - Dark Stealth Elf
Fireworks Zook - Autumn Stump Smash - Jolly Bumble Blast
Skylanders: Swap Force
Bumble Blast - Zoo Lou - Stink Bomb - Grilla Drilla

Magic Skylanders

Skylanders: Spyro's Adventure


Double Trouble

Spyro

Voodood

Wrecking Ball
Skylanders: Giants
Pop Fizz - Ninjini
Alter Egos
Dark Spyro - Legendary Spyro - Scarlet Ninjini - Royal Double Trouble
- Buddy Wrecking Ball - Hoppity Pop Fizz - Enchanted Hoot Loop - Enchanted Star Strike
Skylanders: Swap Force
Star Strike - Dune Bug - Hoot Loop - Trap Shadow

Tech Skylanders

Skylanders: Spyro's Adventure


Boomer

Drill Sergeant

Drobot

Trigger Happy
Skylanders: Giants
Sprocket - Bouncer
Alter Egos
Legendary Trigger Happy - Legendary Bouncer - Lucky Boomer - Nitro Magna Charge
Springtime Trigger Happy - Kickoff Countdown
Skylanders: Swap Force
Countdown - Wind-Up - Magna Charge - Spy Rise

Undead Skylanders

Skylanders: Spyro's Adventure


Chop Chop

Cynder

Ghost Roaster

Hex
Skylanders: Giants
Fright Rider - Eye-Brawl
Alter Egos
Legendary Chop Chop - Grill Master Chop Chop - Legendary Grim Creeper - Legendary Night Shift
Skeletal Cynder - Quickdraw Rattle Shake
Skylanders: Swap Force
Roller Brawl - Grim Creeper - Rattle Shake - Night Shift

Water Skylanders

Skylanders: Spyro's Adventure

Gill Grunt

Slam Bam

Wham-Shell

Zap
Skylanders: Giants
Chill - Thumpback
Alter Egos
Legendary Slam Bam - Legendary Chill - Surfer Slam Bam - Dark Wash Buckler
- Admiral Thumpback - Nitro Freeze Blade
Skylanders: Swap Force
Rip Tide - Punk Shock - Wash Buckler - Freeze Blade