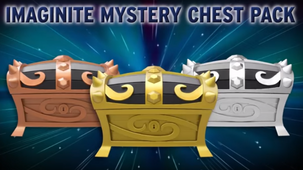 Imaginite Mystery Chests are chests that contain Imaginite. The mystery chests come in three different forms: Bronze, Silver and Gold. These items will unlock new creation pieces, such as gear, weapons, and parts for players' Imaginator characters.
A blue-colored Level Pack Imaginite Mystery Chest is also bundled with the Cursed Tiki Temple and Lost Imaginite Mines packs, each unlocking 80 new Imaginator parts added in an update.
Trivia
Once an Imaginite Mystery Chest is placed on the portal for the first time, the profile it was used on will no longer be able to unlock more content from the chest. However, it is still possible to use it on a separate profile.
Ad blocker interference detected!
Wikia is a free-to-use site that makes money from advertising. We have a modified experience for viewers using ad blockers

Wikia is not accessible if you've made further modifications. Remove the custom ad blocker rule(s) and the page will load as expected.