Kaos
Talk

3
935pages on
this wiki
"Behold! It is I, Kaos! And as you can see, I AM AWESOME!"
    —Kaos
Kaos is an evil Portal Master and the main antagonist of the Skylanders series. He plots to take over Skylands and was responsible for banishing all the Skylanders from their world to Earth after destroying the Core of Light that protected Skylands.
Character Development
Skylanders: Spyro's Adventure
, the team of Toys for Bob needed an ultimate villain. At first, I-Wei Huang, Toy and Character director just started drawing various bad guys, but they were too generic, boring, or too scary. Paul Reiche, the studio head and creative force behind
Skylanders
, fortunately had a vision for Kaos. "He should be a powerful, but annoying little guy." I-Wei took another go at him, but what he ended up with just didn't feel like he's got the emotional range needed for the role.
He then came up with a crazy idea: since the player/kid is a Portal Master, what if the evil Portal Master is also a realistic person? With this direction, I-Wei took another quick couple of shots at a small, but more realistic concepts of Kaos. He tried to bring out the Napoleon complex in him, but they just ended up looking pathetic and creepy. Going for a more powerful, but younger feel, he continued to go for this realistic vibe. In this version, Kaos' personality was starting to come through, the facial markings and the overall feel are now something that I-Wei really wanted to keep.
However, the realistic feel was no longer needed, as it was too jarring to make this kind of transition. So I-Wei Huang made Kaos more cartoony and experimented with a bit with different body styles, while retaining much of Kaos' same look and feel as before. The team ended up liking one of Kaos' concept designs as "the most likely villain to take over the world" in this class picture. "And that's how Kaos was born, along with his Alter Ego floating head, which remained a little more realistic."
Afterwards, I-Wei created some more sketches to get a better feel for his character. It wasn't until the animators and Richard Horvitz's voice came to being, "that he truly became the Kaos that we know today." [1]
Personality
Kaos is overconfident, with a big ego as well as an inferiority complex. He is obnoxious, loud mouthed, idiotic and delusional. As expected, Kaos glorifies himself immensely, with his castle filled with things that boost his already enormous ego. He speaks in a varied voice, from normally one second, then shouting out with excess emphasis the next. Kaos was ridiculed when he was younger and desperately tries to be taken seriously as a villain. However, underneath his overconfident exterior, Kaos possesses a cunning mind, catching the Skylanders by suprise when the evil Portal Master had tricked them into triggering a trap that would've buried the heroes alive.
He despises the new Portal Master whom he calls by 'Apprentice Portal Master' and 'Portal Master Imposter', and claims that only he is the real Portal Master. 
Like most villains, Kaos is disgusted at the sight of peaceful and romantic atmospheres. The only person whom he treats with any kindness, is his butler Glumshanks, and later the Arkeyan Conquertron. He also has a strong hatred for the tree folk, including his evil Life Minion, Evil Ent. He doesn't appear to be very observant, as he failed to notice how much torment Glumshanks had gone through nor didn't seem to realize that his butler was reverted back to his normal self after being evilized.   
Abilities
Being a Portal Master, Kaos has the ability to summon darker versions of the Skylanders; as well as other races such as Cyclopses, Trolls, the Drow, and Spell Punks as his minions. He also has the ability to summon powerful spells with the assistance of the Eternal Sources.
It has been shown that Kaos is a master of Dark Magic and has a some gift for invention. He can project magic bolts of energy and has once had a scepter the causes creatures to grow.
Kaos is also notable for being able to cast a large, hooded projection of his head to talk to the outside world on a Portal from inside his castle. Using this special effect, the projection of his head is more terrifying (though all of Skylands knows that it isn't his real face) and Kaos speaks with a deeper alteration of his voice to make himself sound more sinister.
In Giants, he gains the Iron Fist of Arkus, which tranforms him into a large Arkeyan robot that looks relatively similar to himself. He is also apparently the most powerful of the Arkeyans while in this form. It gives him complete command over the Arkeyan armies, and allows him to use eye lasers. He can spawn Arkeyan robots and blob generators
In Swap Force, he is evilized when a huge pile of Petrified Darkness lands on top of him. He transforms into Super Evil Kaos, which is a gigantic, rock-like version of himself. He can cause huge shockwaves when he stamps his feet on the ground. He can also summon Elemental Golems and Chompy Rustbuds. His brain also becomes sentient, allowing it to conjure thoughts and bring them to life inside of him, most notably a small version of Glumshank's Arkeyan Tank, and Sheep with Kaos' head.
Story
History
Before he became evil, it was said that Kaos was born a prince. While his brothers were blessed with long, flowing locks, Kaos was bald, ugly, and devastatingly smelly. His father dismissed Kaos as an embarassing runt. In response, the prince kicked his father in the widdershins, gave away his royal name, and headed out into the wilderness along with his equally-ugly butler, Glumshanks.
Having created the Wilikin, he realized he had something of a knack for magic, and he threw himself into learning more about this unexpected power. When his research brought him to the subject of Portal Masters, he immediately knew he must be one of them. The only problem was, he didn't have a portal. So, with Glumshanks at his side, he began to scour the universe for one. It was only a matter of time before they found their way to Skylands and learned of the Core of Light; the mysterious machine that filled Skylands with light and kept The Darkness at bay. Hungry for power, Kaos had tried to destroy the Core there and then, but had been defeated by Master Eon and the Skylanders. He, however, had never given up on the dream of ruling Skylands.
Skylanders: The Machine of Doom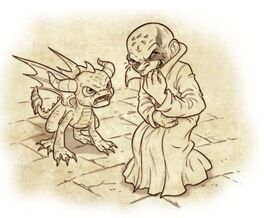 Kaos sought after an item called the
Chattering Key
, which was used to unlock an ancient Arkeyan artifact capable of destroying the Core of Light that not even the Skylanders nor Eon could stop it. The tyrant sent his Troll minions and a
Spell Punk
to test out their invisibility spell that is needed to sneak past the guard protecting the Key. Unfortunately, the Trolls caused mischief in the Mabu Market using their invisibility powers, drawing attention to the Skylanders, Spyro,
Eruptor
, and
Gill Grunt
. The Spell Punk accidentally uttered that they were looking for the Chattering Key, and he and the trolls were summoned back to Kaos' lair when the projection of Kaos' face appeared, aiming to punish the Spell Punk for revealing too much information.
While Spyro, Eruptor, Boomer, and Gill Grunt retrieved the Chattering Key from the Forest of Fear, Kaos had captured Flynn and used him to force the Skylanders to hand over the key to the evil Portal Master. Kaos and Glumshanks then summon a tomb leading to the Pyramid of Just Rewards that contained the Arkeyan artifact he was seeking: the Machine of Doom. Inside, Kaos once again tries to use Flynn as stalemate when the Skylanders had entered the tomb as well to stop Kaos, but Boomer disrupts him when the troll attempted control the Machine of Doom. However, the machine went out of control, breaking apart, and the pyramid itself started to crumble. Kaos laughed maniacally at the Skylanders, revealing that the Machine of Doom was really a trap designed by the Arkeyans to capture anyone who may be tempted to steal the weapon capable of destroying the Core of Light, and that Kaos planned on using the trap to bury the Skylanders alive.
Revealing his transport portal, Kaos attempted to make a hasty retreat from the crumbling pyramid, but was stopped by Boomer, who managed to control the Machine of Doom and destroy the portal. Spyro, despite wanting to leave Kaos in the very trap he tried to spring but knew what Eon would do, saved the evil tyrant from the tumbling ruins as Boomer used the Machine of Doom to escape. Kaos, however, made his escape afterwards using a fragment of his transport portal and teleported home to his lair.
Back in his lair, Kaos began to look through a book entitled, '101 Ways to Become Lord of Skylands', smiling evilly after writing out the words 'Plan One: The Machine of Doom' on the first page...
Skylanders: Mask of Power series
Spyro versus the Mega Monsters
Kaos appeared in the Stinky Swamp saving Spyro, Stealth Elf, and Snuckles from an unusually large titchy toad with the use of a magic staff. He then announced that he would be turning over a new leaf by fighting evil-doers, leaving Spyro and Stealth Elf in complete disbelief. Soon, the news of Kaos's heroic exploits were spread throughout Skylands, defeating mega-sized animals and saving the inhabitants before the Skylanders could have the chance, irritating the heroes.
Kaos soon reappeared at the Eternal Archives, suspending a group of mega-sized Chompies to stop them from devouring the Skylanders. The evil Portal Master revealed that as a child he wanted to borrow a book called World Domination for Beginners and other related books from the Eternal Archive, but was told by the Chief Curator, Wiggleworth that they weren't available for loan (in order to keep the books from falling into the wrong hands). Kaos threatened to release the giant Chompies upon the heroes if Wiggleworth didn't hand over a forbidden book to him. When Wiggleworth refused, the evil Portal Master released the Chompies to devour the group. Stealth Elf stole the magic staff from Kaos, and used its power to enlarge Spyro two times the size of the giant Chompies, allowing the dragon to battle the giant enemies.
Kaos managed to steal back his staff and used its power to shrink Stealth Elf down to the size of an ant. As revenge, the tiny elf stabbed one of her daggers into Kaos's ankle like a splinter, causing the evil Portal Master to drop his staff in pain and allowing Drill Sergeant the chance to destroy it, returning Spyro and Stealth Elf back to normal size. Cornering Kaos, Spyro soon realized that Kaos's true plan was to test his staff on a few creatures (growing them into a giant size), trick people into thinking he was saving them just so he could attack the Archive and blackmail its curator, who Kaos thought would be blinded by hero worship like others have.
Knowing that he was defeated, Kaos disappeared, vowing that his failed plan was only the beginning.
Gill Grunt and the Curse of the Fish Master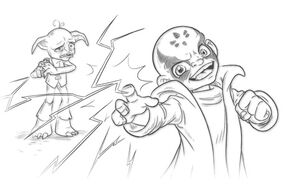 After the events of
Spyro versus The Mega Monsters
, was revealed that Kaos was seeking after the fragments of the
Mask of Power
, an evil artifact that he would use to destroy the Core of Light. After failing to steal the Book of Power in order to locate the rest of the fragments, he managed to obtain the Tech fragment, and searched for the Water Fragment that the Skylanders were also looking for.
After the Skylanders defeated Captain Grimslobber, Kaos was able to retrieve the broken pieces of the Fish Master's Crown that supposedly containted the Water Fragment he was after. The evil Portal Master taunted the Skylanders by dumping gallons of fish on them before firing a bolt of magic on the ship of the Fearsome Fang to sink the heroes before making his leave. Although Kaos seemed to have taken the Water Fragment, he was unaware that the real Fragment was in the hands of the Skylanders while all he got was a broken crown. The evil Portal Master was currently looking for the rest of the Fragments, with the Skylanders getting ready for him.
Lightning Rod Faces the Cyclops Queen
Kaos captured Cali after hearing that she knew the way to Tempest Towers that held the Air fragment to the Mask of Power: the Land Whale. With the help of his Drow army, the evil Portal Master navigated through the Sea of Storms with the Skylanders in hot pursuit. The heroes fortunately managed to fly past Kaos and his minions and beat him to Tempest Towers. Once at Tempest Towers, Kaos immediately announced his arrival. After meeting the Cyclops Queen, she saw Kaos as a unique specimen to her animal collection and ordered for his capture.
Soon, Kaos's Drow army fought against the Cyclopses and won the fight. Kaos attempted to force the Cyclops Queen to tell him the password to the door leading to where the Land Whale was being held, but her husband, Pipsqueak, told him the password out of fear for his life after being turned into a pot of petunias. The Skylander, Lightning Rod, quickly hurled the Land Whale out of Tempest Towers and into the unknown, and Kaos and his Drow army quickly gave chase. It was soon revealed that the Air fragment wasn't the Land Whale, but the Cyclops Queen's tower that held her animal collection.
Having lost half of his Drow army to the Land Whale as a result, Kaos contacted a spy within the vault of the Eternal Vault named Squirmgrub, a traitorous Warrior Librarian who had been telling the evil Portal Master the locations to the fragments to the Mask of Power...
Terrafin Battles the Boom Brothers
In the Fantastic Fairy Fair, Kaos posed as a fortune teller and managed to cause trouble for Gurglefin with one of his fortunes. The evil Portal Master soon revealed himself when his troll army and Floss-O-Tron managed to capture Rocky, a Stone Golem who was believed to be the Earth segment to the Mask of Power. Kaos was able to escape with Rocky to the Explosive Emporium, but the Skylanders, Terrafin, Sonic Boom, Hot Dog and Sprocket were able to track him down. However they fell into a trap made by Kaos and the Boom Brothers, who were working with the evil Portal Master.
However the Skylanders were able to free themselves from the musical trap and drove Kaos and his troll army out of the chamber they were in. After the destruction of the Boom Brothers, Kaos threatened to blow the Skylanders sky-high should they refuse to let him and his troll army back inside the room, which turned out to be a large rocket. Sprocket unintentionally launched the rocket, sending the Skylanders away from Junk Mountain and leaving Kaos and his troll army under what was left of the Explosive Emporium.
Cynder Confronts the Weather Wizard
WARNING: This section contains spoilers below!
(Skip section)
Kaos forced a weather wizard named Hurrikazam into following his orders, threatening to cut the wizard's precious Amazing, Fantastic, Incredible, Suprising, Unfathomable, All-Coloured Rose if he doesn't do as the evil Portal Master commands. He used Hurrikazam to kidnap the undead inhabitants of the Isle of the Dead in order to drain them of their undeadliness and store it up in a tank of Undead energy to shower every island of Skylands with undead rain showers to turn the living into undead as well as to destroy the other elements. Without Hurrikazam's notice, Kaos operated the wizard's weather machine to cause unnatural harmful weather conditions throughout Skylands.
However the Skylanders, Cynder, Zook and Hex were able to uncover his devious plan, but became captured by Hurrikazam. Kaos ordered the wizard to drain the Skylanders of their element, but Hurrikazam refused despite losing his colorful rose. The evil Portal Master tried to proceed with the draining process, but accidentally released the Skylanders. Just as the Skylanders had Kaos cornered, Hex suddenly trapped Cynder and Zook in her bone fortresses, revealing that she has switched sides, now serving Kaos. Hex allowed herself to provide Kaos with her powerful Undead energy, claiming that she was tired of being feared and longed to be normal again. Kaos eagerly began the procedure, however the machine was overloading with Hex's power, which the elf sorceress planned all along and never actually defected to Kaos.
Seeing his plan failing, Kaos tried to find the Undead segment to the Mask of Power in Hurrikazam's botanical gardens, but was stopped by Cynder and the Stump Demon, Dogwood. Kaos swore revenge, but was reprimanded by Cynder instead as he escaped back to his lair. Unfortunately, his plans weren't in vain, as Squirmgrub had taken five pieces to the Mask of Power from the Eternal Archives for Kaos and also kidnapped Master Eon while the Skylanders were away on their mission.
Skylanders: Spyro's Adventure
In the story events of Spyro's Adventure, Kaos returned to Skylands after his exile to exact his revenge. He succeeded in destroying the Core of Light by using a large fearsome creature called the Hydra, an act which banished the Skylanders to Earth. With Skylands' greatest protectors gone, Kaos proceeded to shroud the world under his rule using The Darkness. He soon became aware of the new Portal Master, who arrived to save Skylands and brought back the Skylanders, and Kaos' attempts to stop them from restoring the Core of Light failed. After the Core of Light was restored, Kaos, blinded by the bright light of the newly restored world, fled back to the Outlands, but not before vowing that he wasn't beaten yet.
The new Portal Master and the Skylanders soon confronted Kaos in his lair to deal with the evil Portal Master once and for all, battling against him, his Minions, and his Hydra. After a long battle, they successfully defeated them. As Kaos gloated that he would destroy the new Portal Master and Skylanders to oblivion another day, the hover throne he was sitting on exploded due to the damage it sustained in battle, sending Kaos flying and landing back on the ground, knocking him out shortly afterwards. Kaos was then imprisoned temporarily at the Ruins, where he soon vowed that he would keep returning until Skylands was his if he was going to be banished to the Outlands once more. However to his surprise, Kaos was banished to Earth instead where he was turned into a toy and is soon tormented by a dog.
Skylanders: Giants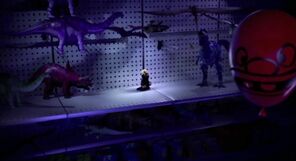 After being banished to Earth, Kaos's toy form was recovered and placed inside a toy store called Super Toy Planet. He was soon released from his frozen state because of his status as a Portal Master, and initially plotted to destroy Earth once he has taken over Skylands. He saw the frozen Skylanders in toy form nearby inside a toy display and took the chance to taunt them before being contacted via television screen by Glumshanks, who had been looking everywhere for Kaos since his exile. Kaos then painfully used a nearby Portal of Power to return to Skylands, despite Glumshanks's warnings that Portal Masters don't use portals on themselves.
Upon his arrival, Kaos landed in a very ancient part of Skylands and inadvertantly reactivated the Arkeyan Conquertron, quickly learning that if he could acquire something known as the Iron Fist of Arkus, he could not only reactivate the entire army of Arkeyan robots, but also command them. With that kind of power, Kaos would be unstoppable. Despite the Skylanders' and the Giants' efforts to stop Kaos, the evil Portal Master was able to reach the Lost City of Arkus and gain hold of the Iron Fist of Arkus, transforming himself into a large Arkeyan robot before using the Iron Fist's power to resurrect the Arkeyan army.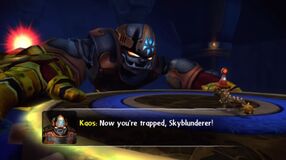 Before he could begin his world conquest with his Arkeyan army, the Skylander confronted Kaos to stop his evil plan, only to discover that the now Arkeyan Portal Master was impossible to stop unless the Iron Fist of Arkus was removed from his grasp. With the help of
Ermit
and
Machine Ghost
, the Skylander was able to remove the Fist of Arkus from Kaos' grip, returning the evil Portal Master to his normal form. After losing the Iron Fist, and soon afterwards the Arkeyan Conquertron, Kaos returned to his
castle
where he revealed to Glumshanks that he had at least 37 more plans to take over Skylands. The evil Portal Master laughed evilly, only to be confronted by his
Mother
 moments later.
Skylanders: Swap Force
Kaos' latest scheme involved trying to use Cloudbreak Islands' volcano to spread Darkness throughout Skylands. His plot consisted of evilizing one of the Ancient Elementals. If he was to succeed, during the next eruption of the volcano, the corrupt Elemental would cause the entire volcano to fill up with Darkness, and then erupt to spread it throughout Skylands. To help with this plot, he summoned the Greebles to help carry out his invasion and began evilizing various creatures to enhance his army. 
After an Evilized Glumshanks was defeated by the Skylanders, Kaos was contacted by a hooded figure on a magic mirror he used to watch over his plots. The hooded figure was revealed to be Kaos' Mom, who told him how her original plan was both a success (banished the SWAP Force Skylanders to Earth), and a failure. She also scolded him that his invasion had called so much attention that the Skylanders returned. Kaos claimed that he would succeed by doing it his own way, rudely cutting his mother off before continuing his plan further.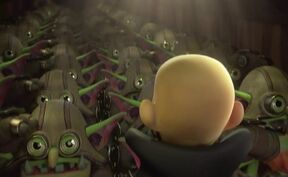 After the Skylanders saved the Ancient
Terrasquid
, Kaos discovered that his mother had appeared in his castle in person to help him out by bringing a band of minions of her own. When most of Kaos' Mom's minions were defeated by the Skylanders, Kaos left his castle to go after the Ancient 
Tree Spirit
, bringing a legion of trolls that have been equipped with evilized fire that would be used to burn down 
Fantasm Forest
, the home of the Spirit. He personally oversaw the plot in a glider mechanism, but his troll army and the evilized fire was contained by the Skylanders, who soon defeated Kaos in his battle ship.
Kaos was captured and held captive by the Skylanders once all four Elementals were joined together. But before they could perform the ceremony, Kaos' Mom appeared and teleported both Tessa and Kaos to his Fortress. To save Tessa, the Skylanders set off to Kaos' Fortress in Flynn's newly improved Dread-Yacht, made it pass the defenses, and defeated Kaos' Mother. After Kaos' Mom was imprisoned in Kaos' mirror, Kaos appeared in his Portal, revealing that he had filled the volcano with Petrified Darkness and showed no intentions of coming to his mother's aid. Flynn, Tessa, Sharpfin, and the Skylanders all set off to the Cloudbreak Core to stop Kaos.
After piling a huge amount of crystallized Petrified Darkness near the heart of the volcano, the crystal pile collapsed on top of Kaos, evilizing him into Super Evil Kaos. The Skylanders confronted the newly evilized Portal Master, and after a grueling battle, they managed to defeat Kaos, reverting him back to his normal state. Afterwards, Kaos and Glumshanks met up again as the Cloudbreak Volcano was ready to erupt, only to find that their legs and lower torsos have been switched. Kaos marveled at how he was finally tall, but they were caught in the eruption of the volcano, blasting them to somewhere unknown.
Villain Entry
Before becoming the archenemy of the Skylanders, Kaos always demonstrated an insatiable hunger for absolute power. Even as an infant, Kaos seized control of his nursery with his "evil baby army of evil drool" which threatened to crawl across the face of all Skylands. Fortunately, this uprising was crushed at naptime. Kaos was then sent to the finest evil school of magical villainy, as were many in his long and twisted family history. It was here that Kaos met Glumshanks, who was persuaded by Kaos to become his evil servant with the promise of career growth. But soon after, they were expelled when Kaos appeared as a giant floating head at a school assembly and ate the gymnasium. With the long suffering and still unpromoted Glumshanks at his side, Kaos continues to come up with plan after plan to take over Skylands; some say to fulfill his ambition to become Skylands' "ultimate evil overlord," though others think that he's still trying to impress his immensely powerful and overbearing mother – herself a Dark Portal Master. All agree, however, that Kaos should never be underestimated.
Relationships
Glumshanks
Glumshanks is the closest thing Kaos has to a friend, but the evil Portal Master frequently mistreats his loyal troll butler.
Kaos' Mom
Kaos openly resents his mother and doesn't take her advice, feeling that his plans surpasses her own. He wastes no time in showing his annoyance whenever she teases him. Despite their strategic evil plans being completely different, both Kaos and his mother share similar evil qualities, and Kaos turned out to be more evil than his mother, having left her to the Skylanders while he pursued his own evil plan (an act which Kaos' Mom praises Kaos for).
Gallery
Trivia
Kaos does not have eyebrows.
During the development of Spyro's Adventure, Kaos originally had a deeper voice.[3]
One of Kaos's first attempts to take over Skylands didn't involve force at all. He merely had statues of himself placed all throughout Skylands, and hoped people would assume he was ruler because of all his statues.
Kaos is pronounced identically to the word 'chaos'.
He has a serious earwax condition.[4]
Kaos almost talks exactly like Invader Zim, Daggett, Rodney J.Squirrel and Billy, cartoon characters whom Richard Horvitz also voiced during his years of voicework. Strangely as result, his voice is the same as Professor Cog in Power Rangers Samurai.
In the console version of Spyro's Adventure, Kaos is shorter than all of the other characters, but in The Machine of Doom, he is taller than Spyro.
Kaos is mentioned in the biographies of certain Skylanders who have previously encountered him, such as Shroomboom, Slobber Tooth, and Smolderdash. Some of those Skylanders (such as Slam Bam, Terrafin and Roller Brawl) have a bone to pick with Kaos.
In Skylanders: Trap Team, Kaos will have his own element called the Kaos element.
References