Hot Dog
Talk

1
480pages on
this wiki
"See Spot Burn!"
    —Hot Dog's official catchphrase
Hot Dog is a young fire dog who is one of the new Skylanders in Skylanders: Giants. He has a yellow counterpart called Molten Hot Dog that is exclusive to Walmart.
Background
Personality
Hot Dog possesses a fierce loyalty to his friends, and true to his nature, he likes to bury things, especially imps.[1]
Biography
Hot Dog was born in the belly of the Popcorn Volcano. While on a nearby mission, a team of Skylanders had come across the stray fire pup when the volcano erupted and Hot Dog came rocketing straight into their camp, accidentally setting Gill Grunt's tent on fire. Using his nose of danger, he helped the Skylanders complete their mission - even pouncing on a lava golem like a blazing comet when it threatened his new friends. After displaying such loyalty and bravery, Hot Dog was brought back to Eon's Citadel where he became a Skylander - and then he proceeded to bury Eon's staff.
Gameplay
Hot Dog's main attack is Firebark, which has him shooting fireballs from his mouth and tail, and he has a primary combo where he shoots three fireballs at once. He can summon a wall of fire that travels straightforward to push and damage enemies; it can also be can be held on the Attack 2 button to be used as a shield for incoming enemies. His third attack, the Comet Slam, flips him in the air spinning and then slamming down upon enemies for massive damage.
Hot Dog is generally a medium-long range fighter with powerful attacks. However, his health and armor stats are very low, which ties him with Gill Grunt for the lowest armor in the game, making Hot Dog not as useful for battling enemies with stronger attacks.
Stats
These are the starting and maximum Statistics for this Skylander in the Skylanders games.

Health: 250 (max. 500)
Speed: 43 (max. 91)
Armor: 6 (max. 36)
Critical Hit: 60 (max. 110)
Elemental Power: 46 (max. 96)
Warning: These stats are not used in any of the Skylander games. They are only listed for completeness reasons.

Strength: 85
Agility: 70
Defense: 50
Luck: 80
Abilities
Basic Abilities
These abilities are available from the start of the game.
Soul Gem Ability
Requires Soul Gem from:
Rumbletown

Wow Pow Power

Firebark
Wall of Fire
Ding Dong Ditch
None

Primary Ability
Press Attack 1 to spit fireballs. Press Attack 1, Attack 1, Hold Attack 1 for a special combo!

Secondary Ability
Press Attack 2 to summon a wall of fire, which can be pushed towards enemies.

Price: 4000
After a Comet Slam, leave a burning bag that explodes when stepped on.

Price: 5000
This Skylander has no Wow Pow Power.
Basic Upgrades
Skylanders can buy new abilities from Persephone.
Pyro Piercers
Comet Slam
Wall of MORE Fire
Super Comet

Price: 500
Fireballs pierce multiple enemies and do increased damage.

Price: 700
Press Attack 3 to flip into the air and slam down on the ground like a comet.

Price: 900
Walls of Fire do increased damage.

Price: 1200
Hold Attack 3 to charge up the Comet Slam and release to do increased damage.
Burning Bow-Wow
Further develop Hot Dog's Firebark and Comet Slam attacks.
Hot Dog Combos
Bark Bombs
Pyro Pinwheel

Price: 1700
Press Attack 1, Attack 1, Hold Attack 2 for Burnin' Bees. Press Attack 1, Attack 1, Hold Attack 3, for Comet Dash.

Price: 2200
Fireballs explode on impact and do increased damage.

Price: 3000
While holding Attack 3 to charge up the Comet Slam, Hot Dog shoots fireballs from all angles.
Pyro Pooch
Further develop Hot Dog's Wall of Fire attacks.
Blazing Wildfire
Great Walls of Fire
Magmutt Battalion

Price: 1700
Walls of Fire travels faster and do even more increased damage.

Price: 2200
Walls of Fire are bigger and do even more increased damage.

Price: 3000
Walls are now made up of fiery dogs that do maximum damage and shoot fireballs.
Skylanders can use abilities depending on their level.


Starting Powers
Fireball (Primary Attack): Press Y to throw ball of lava at Hot Dog's enemies.
Fire Wall (Secondary Attack): Press and hold X to make a wall of fire that can be pushed at Hot Dog's enemies.
Upgrades
Triple Fireball (requires level: 3): Hold Y to charge up Hot Dog's fireball to shoot out 3 fireballs at the same time.
Fire Wall Extension (requires level: 6): Hot Dog's fire wall will gain an extra segment at each end to create a longer wall of fire.
Fire Trail (requires level: 9): Sprint A to ignite a fiery trail behind Hot Dog. This trail will damage nearby enemies.
Minigame Abilities
Skylanders get special abilities in minigames based on their element.
Sky Defense
Castle Assault
Ground Defense

Inflict fire damage to enemies in range for a short time.

Launch a projectile that explodes into smaller fragments that fly away in all directions.

This ability unlocks once the player beats Castle Assault level 16.

Inflict fire damage to enemies in range for a short time.
Character Trailers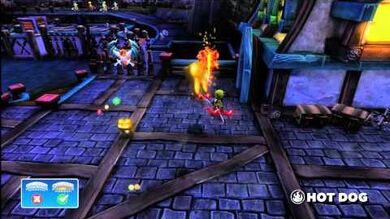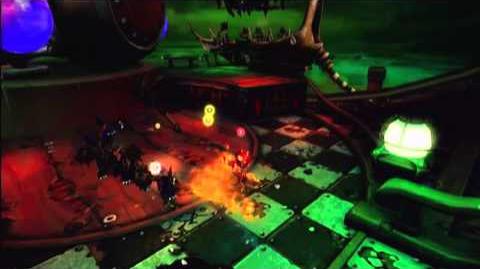 Gallery
Trivia
Hot Dog is the only Skylander to have his name based on a kind of food.
He and Hot Head are the only Fire Skylanders with the word 'Hot' in their names.
He has an incredible sense of smell. His highly sensitive nostrils can sniff out trouble from miles away.[1]
Hot Dog has the Fire symbol on his dog collar tag.
He resembles Eruptor since they are both lava-based creatures.
Strangely although it's not a melee attack, he can perform combos with his Firebark, making him the only skylander with this ability.
His catchphrase is a pun on the term See Spot Run.
Molten Hot Dog is featured in his own Skylanders Activity Book: Molten Hot Dog's Quiz Quest.
Molten Hot Dog is the third Wal-Mart exclusive, and the first to appear different in-game (the first was a Red Drill Sergeant, the second was a Glow-In-The-Dark Series 2 Sonic Boom).
References
Characters

Air Skylanders

Spyro's Adventure


Lightning Rod

Sonic Boom

Warnado

Whirlwind
Skylanders: Giants
Jet-Vac - Swarm


Earth Skylanders

Spyro's Adventure


Bash

Dino-Rang

Prism Break

Terrafin
Skylanders: Giants
Flashwing - Crusher
Fire Skylanders
Spyro's Adventure


Eruptor

Flameslinger

Ignitor

Sunburn
Skylanders: Giants
Hot Dog - Hot Head
Skylanders: Swap Force
Blast Zone

Life Skylanders

Spyro's Adventure


Camo

Stealth Elf

Stump Smash

Zook
Skylanders: Giants
Tree Rex - Shroomboom
Skylanders: Swap Force
Stink Bomb

Magic Skylanders

Spyro's Adventure


Double Trouble
Spyro

Voodood

Wrecking Ball
Skylanders: Giants
Pop Fizz - Ninjini

Tech Skylanders

Spyro's Adventure


Boomer

Drill Sergeant
Drobot

Trigger Happy
Skylanders: Giants
Sprocket - Bouncer
Skylanders: Swap Force
Countdown - Magna Charge

Undead Skylanders

Spyro's Adventure


Chop Chop

Cynder

Ghost Roaster

Hex
Skylanders: Giants
Fright Rider - Eye-Brawl
Skylanders: Swap Force
Roller Brawl - Night Shift

Water Skylanders

Spyro's Adventure


Gill Grunt

Slam Bam

Wham-Shell

Zap
Skylanders: Giants
Chill - Thumpback
Skylanders: Swap Force
Wash Buckler - Freeze Blade