Nitro Freeze Blade
Talk

2
740pages on
this wiki
Nitro Freeze Blade

Species:
Cat
Gender:
Male
Element:
Water
Role:
SWAP Force
World:
Skylands
Appears in:
Skylanders: Swap Force
Attacks/Actions:
Chakram Throw
Speedy Skate
Frostcicle
Ice Trail
Shaved Ice
English Voice Actor:
Unknown
First Release:
Skylanders: Swap Force
"Keeping it Cool!"
    —Nitro Freeze Blade's official catchphrase.
Nitro Freeze Blade is a yellow variant of the character Freeze Blade in Skylanders: Swap Force.
Gameplay
Stats
These are the starting and maximum Statistics for this Skylander in the Skylanders games.

Health: ??? (max. 0)
Speed: ?? (max. 48)
Armor: ?? (max. 30)
Critical Hit: ?? (max. 50)
Elemental Power: ?? (max. 50)
Warning: These stats are not used in any of the Skylander games. They are only listed for completeness reasons.

Strength: 140
Defense: 75
Agility: 200
Luck: 85
Character Trailer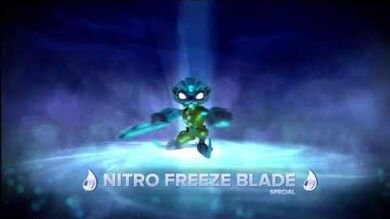 Trivia
He and Nitro Magna Charge are the only Nitro Skylanders.

They are also counterparts of SWAP Force Skylanders with the Speed ability.

This is probably more than a coincidence as Nitro is a term used for a chemical makes cars move faster than normal and both Nitro variants have checkered patterns in their design, a symbol for racing.
Characters

Air Skylanders

Skylanders: Spyro's Adventure


Lightning Rod

Sonic Boom

Warnado

Whirlwind
Skylanders: Giants
Jet-Vac - Swarm
Alter Egos
Polar Whirlwind - Legendary Jet-Vac - Legendary Free Ranger
Skylanders: Swap Force
Free Ranger - Scratch - Boom Jet - Pop Thorn

Earth Skylanders

Skylanders: Spyro's Adventure


Bash

Dino-Rang
Prism Break

Terrafin
Skylanders: Giants
Flashwing - Crusher
Alter Egos
Legendary Bash - Granite Crusher - Jade Flashwing - Dark Slobber Tooth - Birthday Bash
Skylanders: Swap Force
Slobber Tooth - Scorp - Rubble Rouser - Doom Stone

Fire Skylanders

Skylanders: Spyro's Adventure

Eruptor

Flameslinger
Ignitor

Sunburn
Skylanders: Giants
Hot Dog - Hot Head
Alter Egos
Legendary Ignitor - Molten Hot Dog - Volcanic Eruptor - Cupid Flameslinger - Dark Blast Zone -
Jade Fire Kraken
Skylanders: Swap Force
Fryno - Fire Kraken - Smolderdash - Blast Zone

Life Skylanders

Skylanders: Spyro's Adventure


Camo

Stealth Elf

Stump Smash

Zook
Skylanders: Giants
Tree Rex - Shroomboom
Alter Egos
Legendary Stealth Elf - Gnarly Tree Rex - Legendary Zoo Lou - Dark Stealth Elf
Fireworks Zook - Autumn Stump Smash - Jolly Bumble Blast
Skylanders: Swap Force
Bumble Blast - Zoo Lou - Stink Bomb - Grilla Drilla

Magic Skylanders

Skylanders: Spyro's Adventure


Double Trouble

Spyro

Voodood

Wrecking Ball
Skylanders: Giants
Pop Fizz - Ninjini
Alter Egos
Dark Spyro - Legendary Spyro - Scarlet Ninjini - Royal Double Trouble
- Buddy Wrecking Ball - Hoppity Pop Fizz - Enchanted Hoot Loop - Enchanted Star Strike
Skylanders: Swap Force
Star Strike - Dune Bug - Hoot Loop - Trap Shadow

Tech Skylanders

Skylanders: Spyro's Adventure


Boomer
Drill Sergeant

Drobot

Trigger Happy
Skylanders: Giants
Sprocket - Bouncer
Alter Egos
Legendary Trigger Happy - Legendary Bouncer - Lucky Boomer - Nitro Magna Charge
Springtime Trigger Happy - Kickoff Countdown
Skylanders: Swap Force
Countdown - Wind-Up - Magna Charge - Spy Rise

Undead Skylanders

Skylanders: Spyro's Adventure


Chop Chop

Cynder

Ghost Roaster

Hex
Skylanders: Giants
Fright Rider - Eye-Brawl
Alter Egos
Legendary Chop Chop - Grill Master Chop Chop - Legendary Grim Creeper - Legendary Night Shift
Skeletal Cynder - Quickdraw Rattle Shake
Skylanders: Swap Force
Roller Brawl - Grim Creeper - Rattle Shake - Night Shift
Water Skylanders
Skylanders: Spyro's Adventure


Gill Grunt

Slam Bam

Wham-Shell

Zap
Skylanders: Giants
Chill - Thumpback
Alter Egos
Legendary Slam Bam - Legendary Chill - Surfer Slam Bam - Dark Wash Buckler
- Admiral Thumpback - Nitro Freeze Blade
Skylanders: Swap Force
Rip Tide - Punk Shock - Wash Buckler - Freeze Blade