Scratch
Talk

9
715pages on
this wiki
Scratch

Species:
Sphynx
Gender:
Female
Element:
Air
Role:
Skylander
World:
Skylands
Appears in:
Skylanders: Swap Force
Attacks/Actions:
Cat Scratch
Playful Pounce
Wing Spark
Silver Claws
Whirlwing
English Voice Actor:
Kathryn Cressida
First Release:
Skylanders: Swap Force
"The Luck of the Claw!"
    —Scratch's official catchphrase
Scratch is a winged sphynx who is one of the new Air Skylanders in Skylanders: Swap Force.
Background
Biography
High in the peaks of Cats Eye Mountain sits a towering city of crystal and gold that can only be reached by creatures of the Air Element. It was here that Scratch spent her youth soaring playfully in the clouds or exploring the endless number of crystal mines. One day, an army of Pirate Greebles arrived in a fleet of airships, looking to steal ancient magic crystals buried deep in the mountain. Donning specially made armour, Scratch led an epic battle against the pirates, using her incredible fighting skills to defend the crystals and the city. Tales of her heroism soon made their way to Jet-Vac, who traveled to Cats Eye Mountain and recruited Scratch to the Skylanders.
Gameplay
Stats
These are the starting and maximum Statistics for this Skylander in the Skylanders games.

Health: ??? (max. 0)
Speed: ?? (max. 48)
Armor: ?? (max. 30)
Critical Hit: ?? (max. 50)
Elemental Power: ?? (max. 50)
Warning: These stats are not used in any of the Skylander games. They are only listed for completeness reasons.

Strength: 110
Defense: 65
Agility: 100
Luck: 65
Abilities
Basic Abilities
These abilities are available from the start of the game.
Soul Gem Ability
Requires Soul Gem from:
Fantasm Forest

Cat Scratch
Playful Pounce
Gem Affinity

Primary Ability
Press Attack 1 to scratch at nearby enemies.

Secondary Ability
Hold Attack 2 to shoot a moveable laser onto the ground, release to pounce where the laser was pointing.

Price: 4000
Gain health from collecting gems, coins and money.
Basic Upgrades
Skylanders can buy new abilities from Persephone/Power Pods.
Wing Spark
Silver Claws
Whirlwing
Silver Mask

Price: 500
Press Attack 3 to dodge an attack and knock away all enemies in an area around you.

Price: 700
Gain new silver claws that deal increased damage!

Price: 900
Hold Attack 3 to pull enemies into a massive whirlwind and do damage to all of them caught inside.

Price: 1200
Gain a new silver mask! Hold Attack 2 to shoot a powerful new laser at the ground, release to do a devastating pounce attack that does increased damage.
Ruby
path1desc
Sharpened Rubies
Ruby Rage
Ruby Mask

Price: 1700
Sharpened Rubies grant increased damage to critical hit.

Price: 2200
Claw damage is increased. Hold Attack 1 to charge a claw attack, release to slash through nearby enemies.

Price: 3000
Hold Attack 2 to shoot a laser at the ground that damages enemies in a larger area.
Sapphire
path2desc
Speedy Sapphire
Sapphire Slash
Sapphire Mask

Price: 1700
Speed is increased. Sapphires infused with the speed of wind!

Price: 2200
Claw damage is increased. Hold Attack 1 to charge a wing attack, release to shoot a vortex that pulls enemies into it.

Price: 3000
Hold Attack 2 to shoot a laser at the ground that damages and slows enemies.
None
wowpow2name

Price: 5000
This Skylander has no Wow Pow power.

Price: 5000
wowpow2desc
Skylanders can use abilities depending on their level.


Starting Powers
3DSpower1 (Primary Attack): 3DSpower1desc
3DSpower2 (Secondary Attack): 3DSpower2desc
Upgrades
3DSupgrade1 (requires level: 3DSupgrade1level): 3DSupgrade1desc
3DSupgrade2 (requires level: 3DSupgrade2level): 3DSupgrade2desc
3DSupgrade3 (requires level: 3DSupgrade3level): 3DSupgrade3desc
Character Trailers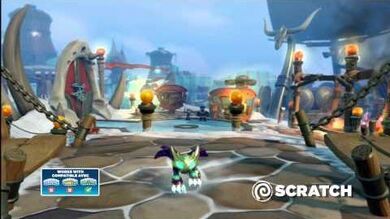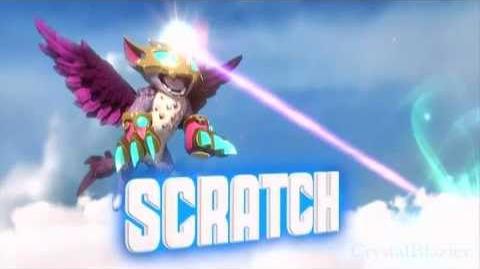 Gallery
Trivia
Scratch bears a resemblance to the Digimon, Gatomon.

Because she resembles an sphynx, she also resembles Nerfertimon, an digivolution form of Gatomon.

Her catchphrase is a pun on the saying "the luck of the draw".
Scratch's voice actress, Kathryn Cressida, also portrayed as Dee Dee from Dexter's Laboratory from Seasons 2 and 4.
Scratch is one of the few Skylanders who are able to heal themselves without eating food (the others being Chop Chop, Wrecking Ball, Stealth Elf, Stump Smash, Zap, Slobber Tooth, Flashwing and Night Shift).
Characters
Air Skylanders
Skylanders: Spyro's Adventure


Lightning Rod

Sonic Boom

Warnado

Whirlwind
Skylanders: Giants
Jet-Vac - Swarm
Alter Egos
Polar Whirlwind - Legendary Jet-Vac - Legendary Free Ranger
Skylanders: Swap Force
Free Ranger - Scratch - Boom Jet - Pop Thorn

Earth Skylanders

Skylanders: Spyro's Adventure


Bash

Dino-Rang

Prism Break

Terrafin
Skylanders: Giants
Flashwing - Crusher
Alter Egos
Legendary Bash - Granite Crusher - Jade Flashwing - Dark Slobber Tooth - Birthday Bash
Skylanders: Swap Force
Slobber Tooth - Scorp - Rubble Rouser - Doom Stone

Fire Skylanders

Skylanders: Spyro's Adventure


Eruptor

Flameslinger

Ignitor
Sunburn
Skylanders: Giants
Hot Dog - Hot Head
Alter Egos
Legendary Ignitor - Molten Hot Dog - Volcanic Eruptor - Cupid Flameslinger - Dark Blast Zone -
Jade Fire Kraken
Skylanders: Swap Force
Fryno - Fire Kraken - Smolderdash - Blast Zone

Life Skylanders

Skylanders: Spyro's Adventure


Camo

Stealth Elf

Stump Smash

Zook
Skylanders: Giants
Tree Rex - Shroomboom
Alter Egos
Legendary Stealth Elf - Gnarly Tree Rex - Legendary Zoo Lou - Dark Stealth Elf
Fireworks Zook - Autumn Stump Smash - Jolly Bumble Blast
Skylanders: Swap Force
Bumble Blast - Zoo Lou - Stink Bomb - Grilla Drilla

Magic Skylanders

Skylanders: Spyro's Adventure


Double Trouble

Spyro

Voodood

Wrecking Ball
Skylanders: Giants
Pop Fizz - Ninjini
Alter Egos
Dark Spyro - Legendary Spyro - Scarlet Ninjini - Royal Double Trouble
- Buddy Wrecking Ball - Hoppity Pop Fizz - Enchanted Hoot Loop - Enchanted Star Strike
Skylanders: Swap Force
Star Strike - Dune Bug - Hoot Loop - Trap Shadow

Tech Skylanders

Skylanders: Spyro's Adventure


Boomer

Drill Sergeant

Drobot

Trigger Happy
Skylanders: Giants
Sprocket - Bouncer
Alter Egos
Legendary Trigger Happy - Legendary Bouncer - Lucky Boomer - Nitro Magna Charge
Springtime Trigger Happy - Kickoff Countdown
Skylanders: Swap Force
Countdown - Wind-Up - Magna Charge - Spy Rise

Undead Skylanders

Skylanders: Spyro's Adventure


Chop Chop

Cynder

Ghost Roaster

Hex
Skylanders: Giants
Fright Rider - Eye-Brawl
Alter Egos
Legendary Chop Chop - Grill Master Chop Chop - Legendary Grim Creeper - Legendary Night Shift
Skeletal Cynder - Quickdraw Rattle Shake
Skylanders: Swap Force
Roller Brawl - Grim Creeper - Rattle Shake - Night Shift

Water Skylanders

Skylanders: Spyro's Adventure

Gill Grunt

Slam Bam

Wham-Shell

Zap
Skylanders: Giants
Chill - Thumpback
Alter Egos
Legendary Slam Bam - Legendary Chill - Surfer Slam Bam - Dark Wash Buckler
- Admiral Thumpback - Nitro Freeze Blade
Skylanders: Swap Force
Rip Tide - Punk Shock - Wash Buckler - Freeze Blade