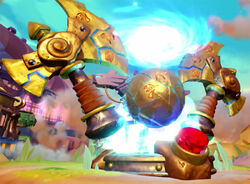 Sensei Shrines
are spherical relics protected by enchanted weapons in
Skylanders: Imaginators
that only
Senseis
can open to obtain their
Sky-Chi
and their
Imaginator
weapon equivalents, hence their name. These Shrines are also aligned with the
Battle Classes
and have different appearances matching the needed weapon, and thus each Sensei from every class can open the ones aligned with their class. Additionally, a cutscene is played whenever the Sensei is about to open one.
Every Shrine is decorated with Skylands Runes around the sphere and the weapons, and held up by a strange magical field coming from a device below it.
List of Shrines
Sensei Shrine Cutscenes
Swashbuckler Shrine - Fizzland
Trivia
Ad blocker interference detected!
Wikia is a free-to-use site that makes money from advertising. We have a modified experience for viewers using ad blockers

Wikia is not accessible if you've made further modifications. Remove the custom ad blocker rule(s) and the page will load as expected.