Shroomboom
Talk

10
882pages on
this wiki
Shroomboom
Species:
Mushroom
Gender:
Male
Element:
Life
Role:
Skylander
World:
Skylands
Appears in:
Skylanders: Giants
Skylanders: Swap Force
Skylanders: Trap Team
Attacks/Actions:
Slingshot
Mushroom Ring
Bigger Boomshrooms
Bouncing Boomshrooms
Launch Paratroopers
English Voice Actor:
Michael Yurchak
First Release:
Skylanders: Giants
"He Shoots, He Spores!"
    —Shroomboom's official catchphrase
Shroomboom is a one-eyed mushroom who is one of the eight new Skylanders in Skylanders: Giants. He is in the Life element. His Series 2 counterpart is named Sure Shot Shroomboom.
Background
Personality
Courageous and determined, Shroomboom lets nothing stand in his way. He's always ready to parachute into danger, no matter the risk.[1]
Biography
Shroomboom was most unfortunate to have been born in a pizza topping garden belonging to Kaos. Growing up among his fellow fungi, he knew it was only a matter of time before a late night craving would bring about their demise. So Shroomboom took a twig and a strand of spider web and made a slingshot. One by one, he launched all of his friends over the garden fence before flinging himself over to join them. Then he guided them all to the edge of the island and leapt to freedom, using his mushroom cap to catch a friendly breeze. Now as a member of the Skylanders, Shroomboom continues to perform courageous deeds... but he can be hard to find on pizza night.
Story
History
Growing up, there were two words Shroomboom lived in fear of: pizza night. As one of the group of living mushrooms inhabiting a pizza-topping garden owned by Kaos, Shroomboom knew he was destined to become part of a tasty midnight snack. While the other mushrooms resigned to their fate, Shroomboom decided there must be more to life than being sliced, cooked and slathered in cheese. Fashioning a catapult from a twig and a length of spider web, he fired his fungi friends over the wall, before launching himself over too. Their route to safety was not easy, but with Shroomboom taking the lead, the entire mushroom crop made their escape. It is believed a family of pineapple chunks weren't lucky. Shroomboom now uses his slingshot skills as a member of the Skyanders, althrough he is still haunted by the smell of mozzarella and tomato sauce.[2]
Gameplay
Shroomboom attacks by shooting exploding mushrooms with a slingshot. His secondary attack is a force field of mushrooms. He can also launch slow mushrooms that glide before they fall and explode and launch himself out of his slingshot.
Stats
These are the starting and maximum Statistics for this Skylander in the Skylanders games.

Health: 260 (max. 520)
Speed: 43 (max. 91)
Armor: 18 (max. 48)
Critical Hit: 20 (max. 70)
Elemental Power: 25 (max. 75)
Warning: These stats are not used in any of the Skylander games. They are only listed for completeness reasons.

Strength: 60
Defense: 80
Agility: 50
Luck: 80
These are the starting and maximum Statistics for this Skylander in the Skylanders games.

Health: (max. Expression error: Missing operand for +.)
Speed: (max. 48)
Armor: (max. 30)
Critical Hit: (max. 50)
Elemental Power: (max. 50)
Warning: These stats are not used in any of the Skylander games. They are only listed for completeness reasons.

Strength: 60
Defense: 80
Agility: 50
Luck: 110
Abilities
Basic Abilities
These abilities are available from the start of the game.
Soul Gem Ability
Requires Soul Gem from:
Time of the Giants

Slingshot
Mushroom Ring
Self-Slingshot

Primary Ability
Press the Attack 1 button to shoot exploding mushrooms.

Secondary Ability
Press Attack 2 to spawn a ring of mushrooms that damage enemies.

Price: 4000
While holding Attack 1, press Attack 2 to slingshot Shroomboom towards enemies
Basic Upgrades
Skylanders can buy new abilities from Persephone/Power Pods.
Launch Paratroopers
Bigger Boomshrooms
Super Shrooms
Bouncing Boomshrooms

Price: 500
Press Attack 3 to shoot mushroom paratroopers who drop down from the sky.

Price: 700
Mushroom Ring gets bigger.

Price: 900
Press and hold Attack 1 to charge up a giant exploding mushroom.

Price: 1200
Exploding mushrooms bounce on the ground and do increased damage.
Barrier Boost
Upgrades Mushroom Ring for better protection.
Spore Power
Ultimate Ring
Back to the Beginning

Price: 1700
Mushroom Ring creates a damaging spore cloud.

Price: 2200
Mushroom Ring is the biggest it gets.

Price: 3000
Hold Attack 2 to remain underground, where you can move around freely.
Paramushroom Promotion
Provides more upgrades for the Paratrooper and Slingshot attacks.
Lock 'N' Load
Fungal Infestation
Paratrooper Invasion

Price: 1700
Can fire exploding mushrooms faster that do increased damage.

Price: 2200
Mushroom Paratroopers stick to enemies and do damage over time.

Price: 3000
Shoot three Mushroom Paratroopers at once.
None
wowpow2name

Price: 5000
This Skylander has no Wow Pow power.

Price: 5000
wowpow2desc
Skylanders can use abilities depending on their level.


Starting Powers
Mushroom Slingshot (Primary Attack): Press (Y) to fire a mushroom. Hold (Y) to charge the slingshot to fire a larger mushroom with more damage.
Mushroom Slam (Secondary Attack): Press (X) to perform a jump slam into the ground pushing back and damaging any nearby enemies.
Upgrades
Mushroom Slingshot Upgrade (requires level: 2): Upgrade the Mushroom Slingshot to be able to create an even larger mushroom that does more damage.
Mushroom Barrier (requires level: 5): Create a protective barrier of mushrooms when doing the Mushroom Slam.
Sprint Spore (requires level: 8): Drop an explosive spore on the ground when starting to sprint.
Quotes
Battle Cries
"He Shoots, He Spores!"
"Awsome, a cap for my cap!" - After putting on a hat
"Nice, more protection for my brain!"- After putting on a hat.
"Growing stronger!" - When checking stats.
"Look at my numbers grow!" - When checking stats. 
"The Spore the merrier!'
"Spore!"
"Room for one spore?"
"Slingshot!"
"Shroom shield!"
"Put a cap on that victory!" - When he wins a battle
"That put the fun in fungus!"
"Hear me spore!"
"Mush rush!"
Character Trailers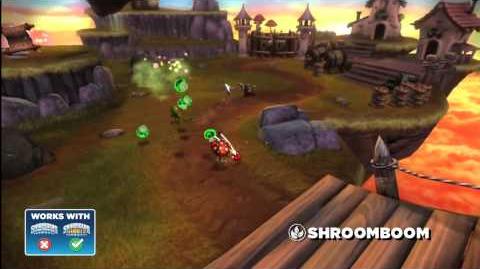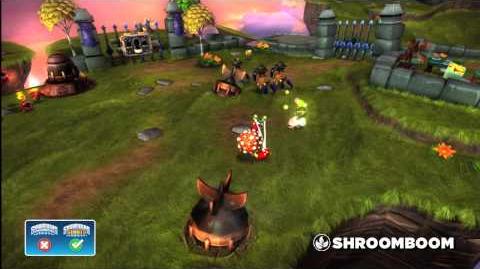 LightCore
Gallery
Trivia
Shroomboom's official catchphrase is a play on "He Shoots, He Scores!"
He, Eye Brawl, and Magna Charge are the only Skylanders with one eye.
In his Lightcore form, his eye and the mushroom he holds in his right hand glows.

In Giants, his eye and mushroom glows in the game. But in Swap Force, only his eye glows in the game.
He and Chill are the only ones with something sticking out of the pedestals, namely the glowing mushroom.

He slightly resembles the Super Mushroom power-ups from the Mario series.
He and Tree Rex are the only Life Skylanders whose color schemes aren't green (though parts of Tree Rex's body parts are green).
Fungal Infestation Upgrade's image in Swap Force replace the old Chompy design with the new Chompy model.
In-game and toy form, Shroomboom's slingshot is green. However, in the promotional artwork, it's brown.
Shroomboom's mushroom species is a Fly Agaric, according to his cap and the real Fly Agaric.
Shroomboom is one of the few Skylanders to have "Boom" in his name (others include Boomer, Boom Jet and Sonic Boom).
Swap Force requires Bigger Boomshrooms to use his Soul Gem ability Self-Slingshot.
References
↑

Skylanders Universe: The Complete Collection, page 91

↑

Skylanders: Universe - Official Sticker Book, page 59