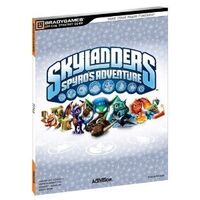 Skylanders: Spyro's Adventure (Official Strategy Guide) is a videogame guidebook published by BradyGames.
Content
The guide offers information to help players through the Skylanders: Spyro's Adventure. The guide includes walkthroughs, character Power Stats, locations of special items such as Hats, Soul Gems, and Treasure Chests, and information about enemies.
Misprints
This Strategy Guide and some other books are partially known for errors during character introductions and through their walkthroughs.
Ad blocker interference detected!
Wikia is a free-to-use site that makes money from advertising. We have a modified experience for viewers using ad blockers

Wikia is not accessible if you've made further modifications. Remove the custom ad blocker rule(s) and the page will load as expected.