The Skylanders Academy is the headquarters and training ground for cadets wanting to be Skylanders. It is the main location for the Skylanders Academy television series.
History
Origin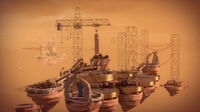 A young
Master Eon
founded the Skylanders Academy to train future protectors of the
Skylands
, sometime after the
Great War
and losses against villains much stronger than him. Though he started the construction on his own in a deserted island, he eventually started overseeing the beginning of each part of the facility with the help of other workers. The longer Eon's beard grew, the larger the Academy became.
Season 1
The Academy is prominent in every episode of the show's first season, most appearances taking place in the Library. Though invasions and thefts are thwarted frequently, the school suffers a great attack in Assault on Skylander Academy, with various doors being destroyed by Kaos, Kaossandra and the Doom Raiders and its defenders incapacitated until the return of Team Spyro.
Structure
The isle is made up of several smaller islands that can be connected and disconnected through unknown methods. Though most of its structure is stationary, some areas are permanently in orbit around it, and additional islands can be attached to its "port" at the Courtyard if necessary.
Staff
Courses
Creatures of Skylands can enroll in the Academy by taking part in admission tests that showcase their abilities. After it, the course takes four years of obligatory and elective classes, training and tests of skill and teamwork; and should they pass the final test in the Skylander Games, the cadets are bound to The Book of Skylanders. Even if they do pass, Skylanders are still expected to attend certain classes and talks; and cadets that fail the Games must take another year of the regular course.
The Academy also offers a junior cadet course for students much younger than the usual, but the details are unknown.
Rooms and Islands
Students
(as of Season 1)
Skylanders
Cadets
Gallery
Trivia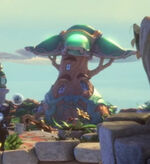 Ad blocker interference detected!
Wikia is a free-to-use site that makes money from advertising. We have a modified experience for viewers using ad blockers

Wikia is not accessible if you've made further modifications. Remove the custom ad blocker rule(s) and the page will load as expected.