Skylanders Academy is a French-American computer-animated spin-off television series based on the Skylanders franchise. It serves as Activision Blizzard Studios' first animated production with Futurama writer Eric Rogers overseeing the creation of the series.[2] The series premiered on October 28, 2016 worldwide on Netflix.[3]
Production
At an Investor Day presentation on November 6, 2015, Activision Blizzard announced the formation of Activision Blizzard Studios, a film production subsidiary dedicated to creating original films and television series. Headed by former The Walt Disney Company executive Nick van Dyk, Activision Blizzard Studios would look to produce and adapting Skylanders into a film and television series.[4]
As part of a two season partnership, Activision Blizzard Studios announced that Skylanders Academy would air on Netflix.[5] Two seasons were originally planned; season one debuted on October 28, 2016 with a second season coming on October 6, 2017.
The television series is a spinoff to the storyline of the games with no direct tie-ins to sequels, being its own separate identity.[6] Eric Rogers mentioned the series being a mixture of Gravity Falls and Futurama.[7]
On February 2, 2017, Season 3 was announced to be in production.[8]
Plot
As darkness begins to threaten the balance of peace in the Skylands, Master Eon is forced to assemble a ragtag group of heroes to protect the universe from evil-doers Kaos and the Doom Raiders. Using their unique blend of personalities and elemental-based super powers, Spyro and his fellow Skylanders are called upon to set aside egos as they come together to maintain harmony and balance in the land. Jam-packed with humour, heart and memorable moments, Skylanders Academy promises to keep viewers on the edge of their seats with epic action for kids of all ages.
Along with a new class of cadets, and newcomers Cynder and Sprocket, the team returns in an action packed Skylanders Academy Season 2 that finds our heroes seeking answers from the past. Spyro begins a search for information about his ancestors in order to harness and understand his special powers. Meanwhile, Kaos' quest to bring evil rule to the Skylands realms accidentally unleashes a villain more powerful than anything Kaos or the Skylander warriors have ever faced. The Skylanders unite once more for the greatest showdown against evil yet – putting them all to the ultimate test!
Voice cast
Additional voices
Crew
Bobby Kotick - Executive Producer
John Mathot - Supervising Director
Kristi Reed - Voice Director
Eric Rogers - Executive Producer
Eric S. Rollman - Supervising Producer
Sander Schwartz - Executive Producer
Stacey Sher - Executive Producer
Collette Sunderman - Voice Director
Timbaland - Theme Song Performer
Toys For Bob - Special Thanks
Nick van Dyk - Executive Producer
Main theme
The theme song for Skylanders Academy, Harmony, was composed by Timbaland and performed by Dalton Diehl.
Gallery
Trailers
Clips
Trivia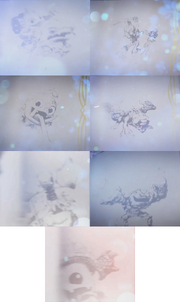 Certain Skylanders and characters do not appear in the series until Season 2.[17]
The different voice cast of several characters in Skylanders Academy is made to give the show its own separate identity.[6]
Notable aspects from the Skylanders franchise, such as the existence of Portal Masters, were not included in the spinoff TV series.
In the TV series intro, there are several artworks of Skylanders within The Book of Skylanders who have yet to appear in the show itself. This includes Gill Grunt, Wrecking Ball, Drobot, Double Trouble, Shroomboom, Chop Chop and Prism Break.

Wrecking Ball and Drobot are quickly shown again in the show when the Book of Skylanders's pages are being flipped at points.
All characters have the artwork of their latest figure release as of Season 1. Drobot, however, has the artwork of his LightCore version rather than his Series 2, as both were released in the same game lineup.

Several character appearances were leaked months and even over a year before their reveal in a photo from Stealth Elf's voice actress, Ashley Tisdale; though the focus of it was the brightly lit recording room, parts of the script for a Season 3 episode could be seen at the bottom of the picture on a table.
References
External Links
Ad blocker interference detected!
Wikia is a free-to-use site that makes money from advertising. We have a modified experience for viewers using ad blockers

Wikia is not accessible if you've made further modifications. Remove the custom ad blocker rule(s) and the page will load as expected.