"No Gold, No Glory!"
    —Springtime Trigger Happy's official catchphrase
Springtime Trigger Happy is an easter counterpart of Trigger Happy in Skylanders: Swap Force.
Background
Biography
Every year the residents of Skylands gather together for the annual Dragon Egg Hunt, celebrating the arrival of spring time. In his enthusiasm for the event, Trigger Happy has dyed himself and his rocket in the pastel colors of the season. Now disguised as a dragon egg, his new mission is to end up in the basket of a lucky kid... and not a dragon!
Gameplay
Stats
These are the starting and maximum Statistics for this Skylander in the Skylanders games.

Health: ??? (max. 0)
Speed: ?? (max. 48)
Armor: ?? (max. 30)
Critical Hit: ?? (max. 50)
Elemental Power: ?? (max. 50)
Warning: These stats are not used in any of the Skylander games. They are only listed for completeness reasons.

Strength: 70
Defense: 40
Agility: 70
Luck: 100
Character Trailer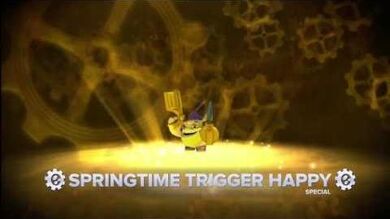 Gallery
Trivia