He looks like a Golding, like Sprocket. What if he's her uncle, the one in her backstory?
Maybe. Or Maybe not.
Name pun
His name is a pun on High Rise!

CS wuz here
Picture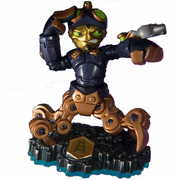 There's a picture of Spy Rise in toy form on this wiki. So why hasn't it been added to the page? Sam (BAZINGA) 12:49, August 22, 2013 (UTC)
Probably because it's forbidden by the image copyrights. Have you seen Aura's blog post about it?
Spy Rise's catchphrase
I think Spy Rise's Catchphrase is "Hook, Line and Swinger."  Wikimaster S (talk) 14:21, September 2, 2013 (UTC)
I stand corrected on "Hook, Line and Swinger." too. Wikimaster S (talk) 13:39, September 24, 2013 (UTC)
Bio Found
Good news, I got found the bio: http://www.skylanders.com/characters/spy-rise
Yes, all the bios can be found on the website now. It was mentioned in a blog post, and I'm pretty sure Aura will add it next time she logs on.
Ad blocker interference detected!
Wikia is a free-to-use site that makes money from advertising. We have a modified experience for viewers using ad blockers

Wikia is not accessible if you've made further modifications. Remove the custom ad blocker rule(s) and the page will load as expected.